Background: HiT Home Entertainment is the home media unit of HiT Entertainment. Currently, the company's releases in the United States are distributed by Universal Studios Home Entertainment.
1st Logo
(1998-2000)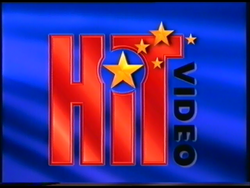 Trivia: This logo is exclusive to the UK.
Nickname: "Better Dead Than Red", "Red Psychedelia Everywhere", "The Red Fireworks"
Logo: This is the same as the HiT Entertainment logo, but this time we see a red ribbon flying from the right edge of the screen. Then the ribbon makes its way to form the spring (or tunnel) and an explosion occurs (which turns into red & more heavier). After that we see more colorful ribbons but smaller and some fireworks along with some gold stars. Later, the camera moves into the center of tunnel, then the tunnel disappears and from its place comes the star which is zooming into hole in the HiT logo in red, which fades in the same time as the star comes. As it does so, the star spins. The word "VIDEO" is written vertically next to the "T" in black. There are also three stars on the "T" and the small other one to the right. The star in the hole shines slightly and the small one next to the "T" glows.
Variant: A shorter version exists, this was mainly used between promos.
FX/SFX: Same as the 1997 HiT Entertainment logo.
Music/Sounds: Same as the HiT Entertainment 1997 fanfare.
Availability: The long version is available on all VHS tapes in the UK between 1998-mid 2000. This logo is absent at the start of most UK VHS tapes throughout 2000 - once the warning screen fades out, it goes DIRECTLY into the promos.
One of the very last releases to use this logo (the short version is used at the end), were
Kipper - Crazy Golf & The Big Freeze (on the latter, the logo plays in full)
Bob the Builder - Trailer Travis & Scarecrow Dizzy (on the latter, the logo plays in full)
Later releases returned to using the main Hit Entertainment logo from early 2001.
Scare Factor: Same as the HiT Entertainment 1997 logo
2nd Logo
(2001-2002)
Nicknames: "2000s HiT Globe", "Cheesy Glow"
Logo: Same as the HiT Entertainment logo from the era, but "HOME" is sandwiched next to "ENTERTAINMENT".
Variants: A still version of the logo exists.
FX/SFX: The glow surrounding the globe or none.
Music/Sounds: None.
Availability: Can be seen on Hit Entertainment VHS tapes that were distributed by Lyrick Studios such as Bob the Builder: To the Rescue. This logo plasters the normal Hit Entertainment logo on tapes like Bob the Builder: Can We Fix it?
Scare Factor: None.
Final Note: Current releases from the company will likely either have the 2013 version of the 2012 Universal Studios Home Entertainment logo and/or the 2006 HiT Entertainment logo.