Logo descriptions by Shadeed A. Kelly
Logo captures by Eric S. and Shadeed A. Kelly
Background
DreamWorks Television is a television production arm of DreamWorks, LLC, established in 1996.
1st logo (1996-)
Logo: The logo is cut down to only the last second or so of the animation from the movie ID counterpart, with the logo zooming out, including the boy fishing on the moon in the upper center of the clouds.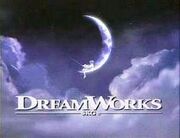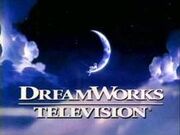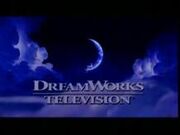 Variants:
The logo may appear more zoomed-out on some shows.
This logo is referred to as "DREAMWORKS TELEVISION" with "TELEVISION" replacing "SKG" in January 2006.
FX/SFX: Same as the movie logo.
Music/Sounds: A soft 3-note horn sounder (different from the movie logo). Sometimes it's silent.
Music/Sounds Variant: A low-tone version was heard on Boomtown.
Availability: Common. It can be seen on quite a few shows such as The Contender, Carpoolers, Spin City, On The Lot, Boomtown, Rescue Me, Oliver Beene, Toonsylvania, Dog Bites Man and the first 3 seasons of Falling Skies, among others.
Scare Factor:
None. This is an very neat log
o.
Ad blocker interference detected!
Wikia is a free-to-use site that makes money from advertising. We have a modified experience for viewers using ad blockers

Wikia is not accessible if you've made further modifications. Remove the custom ad blocker rule(s) and the page will load as expected.