Spain is a sovereign state largely located on the Iberian Peninsula in southwestern Europe, with two large archipelagos, the Balearic Islands in the Mediterranean Sea and the Canary Islands off the North African Atlantic coast, two cities Ceuta and Melilla in the North African mainland and several small islands in the Alboran Sea near the Moroccan coast. Its mainland is bordered to the south and east by the Mediterranean Sea except for a small land boundary with Gibraltar; to the north and northeast by France, Andorra, and the Bay of Biscay; and to the west and northwest by Portugal and the Atlantic Ocean. It is the only European country to have a border with an African country (Morocco) and its African territory accounts for nearly 5% of its population, mostly in the Canary Islands but also in Ceuta and Melilla. Along with France and Morocco, it is one of only three countries to have both Atlantic and Mediterranean coastlines.
In Spanish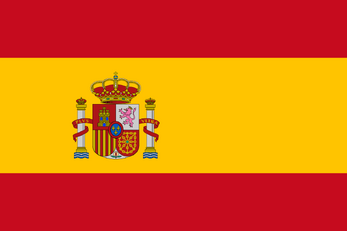 España es un estado soberano en gran parte se encuentra en la Península Ibérica en el suroeste de Europa, con dos grandes archipiélagos, las Islas Baleares en el mar Mediterráneo y las Islas Canarias frente a la costa atlántica de África del Norte, dos ciudades de Ceuta y Melilla en la parte continental del norte de África y varios Pequeñas islas en el Mar de Alborán cerca de la costa marroquí. Su tierra firme limita al sur y al este con el mar Mediterráneo excepto por una pequeña frontera terrestre con Gibraltar; Al norte y al noreste por Francia, Andorra y el Golfo de Vizcaya; Y al oeste y noroeste por Portugal y el Océano Atlántico. Es el único país europeo que tiene una frontera con un país africano (Marruecos) y su territorio africano representa casi el 5% de su población, principalmente en las Islas Canarias, pero también en Ceuta y Melilla. Junto con Francia y Marruecos, es uno de los tres únicos países que cuentan con costas tanto del Atlántico como del Mediterráneo.
Media in category "Category:Spain"