Colombia is a transcontinental country largely situated in the northwest of South America, with territories in Central America. Colombia shares a border to the northwest with Panama, to the east with Venezuela and Brazil, to the south with Ecuador and Peru. It shares its maritime limits with Costa Rica, Nicaragua, Honduras, Jamaica, the Dominican Republic, and Haiti. It is a unitary, constitutional republic comprising thirty-two departments. The territory of what is now Colombia was originally inhabited by indigenous peoples including the Muisca, Quimbaya, and Tairona.
In Spanish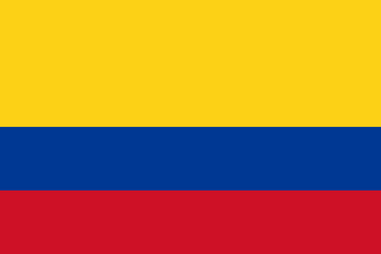 Colombia es un país transcontinental en gran parte situado en el noroeste de América del Sur, con territorios en Centroamérica. Colombia comparte una frontera al noroeste con Panamá, al este con Venezuela y Brasil, al sur con Ecuador y Perú. Comparte sus límites marítimos con Costa Rica, Nicaragua, Honduras, Jamaica, República Dominicana y Haití. Es una república unitaria y constitucional compuesta por treinta y dos departamentos. El territorio de lo que ahora es Colombia fue originalmente habitado por pueblos indígenas como Muisca, Quimbaya y Tairona.
Pages in category "Colombia"