Bangladesh is a sovereign state in South Asia. It forms the largest and eastern portion the ethno-linguistic region of Bengal. Located at the apex of the Bay of Bengal, the country is bordered by India and Myanmar and is separated from Nepal and Bhutan by the narrow Siliguri Corridor. With a population of 170 million, it is the world's eighth-most populous country, the fifth-most populous in Asia and the third-most populous Muslim-majority country. The official Bengali language is the seventh-most spoken language in the world, which Bangladesh shares with the neighboring Indian states of West Bengal, Tripura and Assam (Barak Valley).
In Bengali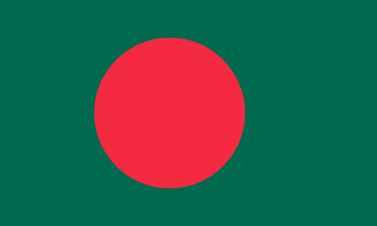 বাংলাদেশ দক্ষিণ এশিয়ার মধ্যে একটি সার্বভৌম রাষ্ট্র. এটা বৃহত্তম এবং পূর্ব অংশ বঙ্গ ভাষাগত অঞ্চল গঠন করে. বঙ্গোপসাগরের চূড়া এ অবস্থিত, দেশ ভারত ও মিয়ানমারের সীমানায় হয় এবং সংকীর্ণ শিলিগুড়ি করিডোর দ্বারা নেপাল ও ভুটান থেকে পৃথক করা হয়. ১৭০ মিলিয়ন জনসংখ্যার সঙ্গে, এটি বিশ্বের অষ্টম জনবহুল দেশ, পঞ্চম সবচেয়ে এশিয়ার জনবহুল এবং তৃতীয় সবচেয়ে জনবহুল মুসলিম সংখ্যাগরিষ্ঠ দেশ. সরকারি বাংলা ভাষা বিশ্বের সপ্তম সবচেয়ে কথ্য ভাষা, পশ্চিমবঙ্গ, ত্রিপুরা ও আসামের (বরাক উপত্যকার) ভারতীয় রাজ্যে প্রতিবেশী সঙ্গে বাংলাদেশের শেয়ার.
Pages in category "Bangladesh"
Ad blocker interference detected!
Wikia is a free-to-use site that makes money from advertising. We have a modified experience for viewers using ad blockers

Wikia is not accessible if you've made further modifications. Remove the custom ad blocker rule(s) and the page will load as expected.